Første juli er – som de foregående tre årene – dagen for feiring av "havets meitemark"
Tradisjonen begynte som en minnemarkering for Kristian Fauchald, en markant personlighet i "polychaetologenes" sirkler. Han gikk bort i 2015, hvor han ville fylt 80 år den 1. juli.
Du kan lese mer om Kristian og om børstemarkdagen her: The 1st International Polychaete day (på engelsk).
Andre tidligere poster i fra oss finner du her
Polychaetologer – børstemarkforskere – feirer dagen med ulike arrangementer over hele verden, og på Twitter – følg #PolychaeteDay  for mer børstemarkfakta enn du visste at du trengte! (man trenger forøvrig ikke Twitter-konto for å se bidragene).
Her på evertebratavdelingen feirer vi dagen med bilderike bloggposter – og en oversikt over publikasjoner som folk i fra avdelingen er delaktige i.
Børstemarkene (Polychaeta) er en gruppe vi har arbeidet mye med både lokalt på Universitetsmuseet, og sammen med partnere i norske, skandinaviske og globale prosjekter. Børstemark finner vi i fra fjæra og helt ned til de største havdypene. De har mange ulike levevis; planktoniske, aktive svømmere, fastsittende filtrerere, jegere, åteseletere og parasitter. De er ofte tallrike, og viktige bidragsytere i næringnettene i havet.
Norske havområder er blant de best studerte i verden, men like fullt er det mye vi ikke vet. Per i dag er det registrert 726 arter av børstemark i norske farvann (mer om det her) – men det reelle tallet er nok adskillig høyere.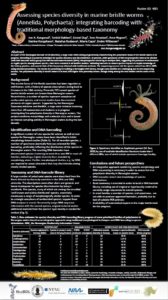 Arbeidet med å nøste opp i dette er allsidig, og i høyeste grad et resultat av nasjonalt og internasjonalt samarbeid. For å få en bedre forståelse av artsdiversiteten i gruppen går vi i gjennom store mengder museumsmateriale, vi sørger for egne nyinnsamlinger (særlig der de store prosjektene ikke går) og sikring av materiale i fra diverse prosjekter (som Mareano og SponGES), vi er tungt involverte i flere Artsprosjekt, vi utfører omfattende genetisk barcoding gjennom NorBOL (for norsk materiale) og MIWA (for materiale i fra vestkysten av Afrika), vi arrangerer workshops, veileder studenter, tilrettelegger for gjesteforskere, og vi samarbeider med spesialister over hele verden.
Børstemarkforskere er en hyggelig gjeng, og hvert tredje år samles de på den Internasjonale børstemarkkonferansen (IPC), som har blitt arrangert 12 ganger nå. Vi har tidligere blogget i fra IPC11 (Sydney), og IPC12 (Cardiff). IPC 13 blir neste år, i California: her er hjemmesiden til konferansen
En av konklusjonene vi har kommet til etter alt arbeidet på norsk materiale er at minst 30% av artsdiversiteten i Norge for denne gruppen fortsatt er ukjent.
Det kan du lese mer om i børstemarkposteren vi hadde med oss til IBOL-konferansen i november 2017, du finner mer om du ruller ned til teksten om poster #485, Assessing species diversity in marine bristle worms (Annelida, Polychaeta): integrating barcoding with traditional morphology-based taxonomy her.
---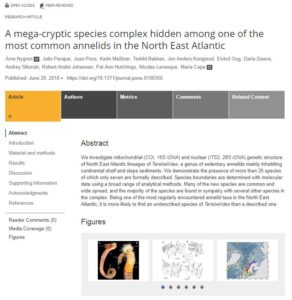 At det finnes mange arter vi fortsatt ikke har oppdaget ble igjen understreket i den nyeste artikkelen vi er involvert i, og som kom ut i forrige uke:
Nygren A, Parapar J, Pons J, Meißner K, Bakken T, Kongsrud J.A., et al. (2018) A mega-cryptic species complex hidden among one of the most common annelids in the North East Atlantic.
PLOS ONE 13(6): e0198356. https://doi.org/10.1371/journal.pone.0198356 (Denne er tilgjengelig med Open Access via linken).
Her tar forfatterne for seg én slekt  – Terebellides – i fra nord-øst i Atlanterhavet, og konkluderer med at om du plukker opp et dyr i fra denne slekta så er det mer sannsynlig at det er en ubeskrevet art enn en som er beskrevet..!
---
Lyst til å lese mer? Her er fagfellevurderte børstemarkpublikasjoner som ansatte ved avdelingen er (med)forfattere av:
Alvestad, T & Budaeva, N (2015) Neosabellides lizae, a new species of Ampharetidae (Annelida) from Lizard Island, Great Barrier Reef, Australia.  Zootaxa 4019 (1): 061–069
Alvestad, T., Kongsrud, J.A., Kongshavn, K. (2014) Ampharete undecima, a new deep-sea ampharetid (Annelida, Polychaeta) from the Norwegian Sea. Memoirs of Museum Victoria 2014; Volume 71. pp. 11-19
Arias A., Paxton H., Budaeva N. 2016. Redescription and biology of Diopatra neapolitana (Annelida: Onuphidae), a protandric hermaphrodite with external spermaducal papillae. Estuarine, Coastal and Shelf Science 175: 1–17. http://dx.doi.org/10.1016/j.ecss.2016.03.002
Bakken, T., Oug, E., Kongsrud, J.A. (2014) Occurrence and distribution of Pseudoscalibregma and Scalibregma (Annelida, Scalibregmatidae) in the deep Nordic Seas, with the description of Scalibregma hanseni n. sp. Zootaxa 2014 ; Volume 3753.(2) pp. 101-117 DOI: http://dx.doi.org/10.11646/zootaxa.3753.2.1

Budaeva, N. (2014) Nothria nikitai, a new species of bristle worms (Annelida, Onuphidae) from the Gulf of Aden, Indian Ocean. Marine Biodiversity 2014, DOI:10.1007/s12526-014-0244-1

Budaeva, N., Jirkov, I., Savilova, T., Paterson, G. (2014) Deep-sea fauna of European seas: An annotated species check-list of benthic invertebrates living deeper than 2000 m in the seas bordering Europe. Polychaeta. Invertebrate Zoology 2014 ;Volum 11.(1) s. 217-230

Budaeva, N., Pyataeva, S., Meissner, K. (2014) Development of the deep-sea viviparous quill worm Leptoecia vivipara (Hyalinoeciinae, Onuphidae, Annelida). Invertebrate biology. 2014; Volume 133.(3) s. 242-260

Budaeva N., Schepetov D., Zanol J., Neretina T., Willassen E. (2016) When molecules support morphology: Phylogenetic reconstruction of the family Onuphidae (Eunicida, Annelida) based on 16S rDNA and 18S rDNA. Molecular Phylogenetics and Evolution 94(B): 791–801.   http://dx.doi.org/10.1016/j.ympev.2015.10.011 
Eilertsen, M., Georgieva, M., Kongsrud, J.A, Linse, K., Wiklund, H.G., Glover, A., Rapp, H.T. (2018). Genetic connectivity from the Arctic to the Antarctic: Sclerolinum contortum and Nicomache lokii (Annelida) are both widespread in reducing environments. Scientific Reports 8:4810 | DOI:10.1038/s41598-018-23076-0

Eilertsen, M., Kongsrud, J.A, Alvestad, T., Stiller, J., Rouse, G., & Rapp, H.T (2017). Do ampharetids take sedimented steps between vents and seeps? Phylogeny and habitat-use of Ampharetidae (Annelida, Terebelliformia) in chemosynthesis-based ecosystems. BMC Evolutionary Biology. 17. 222. Doi: 10.1186/s12862-017-1065-1.

Kongsrud J.A., Eilertsen M.H., Alvestad T., Kongshavn K., Rapp HT. (2017) New species of Ampharetidae (Annelida: Polychaeta) from the Arctic Loki Castle vent field. Deep Sea Research Part II: Topical Studies in Oceanography. 137: 232-245. doi: 10.1016/j.dsr2.2016.08.015

Kongsrud, J.A., Budaeva, N., Barnich, R., Oug, E., Bakken, T. (2013) Benthic polychaetes from the northern Mid-Atlantic Ridge between the Azores and the Reykjanes Ridge, Marine Biology Research, 9:5-6, 516-546, DOI: 10.1080/17451000.2012.749997

Oug, E., Bakken, T. & Kongsrud, J.A. (2014) Original specimens and type localities of early described polychaete species (Annelida) from Norway, with particular attention to species described by O.F. Müller and M. Sars. Memoirs of Museum Victoria 71, 217-236 http://doi.org/10.24199/j.mmv.2014.71.17

Oug, E., Bakken, T., Kongsrud, J.A., Alvestad, T. (2016) Polychaetous annelids in the deep Nordic Seas: Strong bathymetric gradients, low diversity and underdeveloped taxonomy. Deep-sea research. Part II, Topical studies in oceanography. 137: 102-112. Publisert 2016-07-06. doi: 10.1016/j.dsr2.2016.06.016

Parapar, J., Kongsrud, J.A., Kongshavn, K., Alvestad, T., Aneiros, F., Moreira, J. (2017). A new species of Ampharete (Annelida: Ampharetidae) from the NW Iberian Peninsula, with a synoptic table comparing NE Atlantic species of the genus. Zoological Journal of the Linnean Society, zlx077,https://doi.org/10.1093/zoolinnean/zlx077

Queiros JP, Ravara A, Eilertsen MH, Kongsrud JA, Hilário A. (2017). Paramytha ossicola sp. nov. (Polychaeta, Ampharetidae) from mammal bones: reproductive biology and population structure. Deep Sea Research Part II: Topical Studies in Oceanography. 137: 349-358. https://doi.org/10.1016/j.dsr2.2016.08.017

Vedenin A., Budaeva N., Mokievsky V., Pantke C., Soltwedel T., Gebruk A. (2016) Spatial distribution patterns in macrobenthos along a latitudinal transect at the deep-sea observatory HAUSGARTEN. Deep-Sea Research Part I 114: 90–98. http://dx.doi.org/10.1016/j.dsr.2016.04.015  
Her kommer en bonus i form av disse flotte bildene (stort sett tatt av Arne Nygren under feltarbeidet vi hadde på Sletvik i Trøndelag i 2016), enjoy og god børstemarkdag!